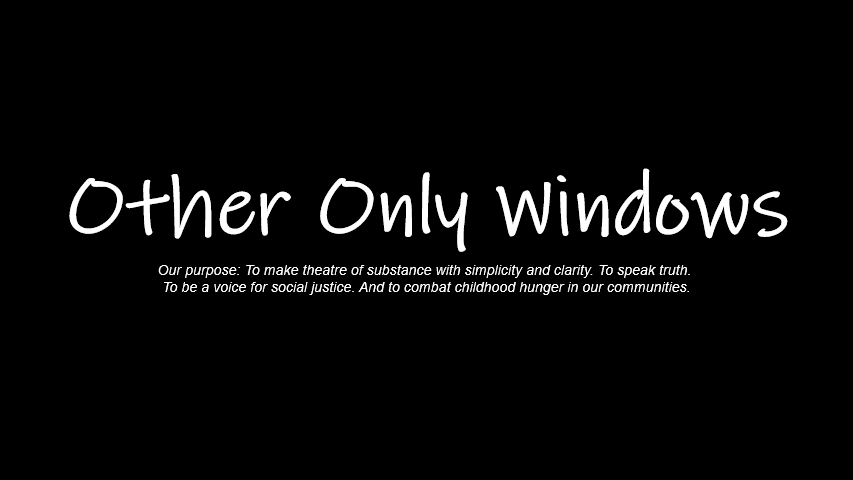 Other Only Windows
info@otheronlywindows.com
The term 'Other Only Windows' is found in Samuel Beckett's hauntingly beautiful short play Rockaby.


" … so in the end, close of a long day, in the end went and sat, went back in and sat at her window, let up the blind and sat, quiet at her window, only window, facing other windows, other only windows … "


Windows, eyes of our souls … each soul, an only soul, an 'other only' soul. Sit, quietly at your 'window' … 'all eyes … all sighs' … Feel your soul rise … seeking out its own truths.


It seemed an apt name for a theatre company which, itself, is only an 'other window' – only an outgrowth, a moving on, an emanation, of a company founded in St. Louis, Missouri in 2010.


We learned much there. No, we learned everything we know there. And we still have much to learn. Now, in the world of pandemic, we must learn how to better utilize technology. How to transition the tricks of the theatre stage to the virtual world of the internet. How to create collaborative art with little or no 'real' human contact. Ideal? No. Necessary? Yes, we think so. Maybe even more so in a world crying out – no, no more tears – demanding change.


Black Mirror Theatre walks on. Other Only Windows is, like all wee ones, only beginning to crawl. But for both of us, this remains. This will always remain:


"To perform pieces of substance with simplicity and clarity. To speak truth. To be a voice for change. And to combat childhood hunger in our communities.

Media